It was the best of times. It was the worst of times.
It was a year that began with a feature in development with the Film Council, a Rondo award nomination, a short in pre-production and a new radio play with Glass Eye Pix.
The summer took us to Dartmoor for  Hell Hounds and Night Hags with Radio 4 and our animations 'Scayrecrow', 'The Screaming Skull' and 'The Hairy Hands' hosted by FEARnet. That was 2012 …but what you can expect from Carrion Films in 2013?
Let's start with the hotly anticipated new animated short 'Borley Rectory'. 2011 came to a close with the voiceover recording with Julian Sands in London and 2012 looked to be the year that would almost certainly deliver a new animated short. "Glass Eye Pix stepped in with development money for the piece and we were ready to go," explains Carrion director Ashley Thorpe, "We had a number of other funding sources set up for the actual shoot including by the early summer production money from Channel 4. Then, as is so often the case our main budget source simply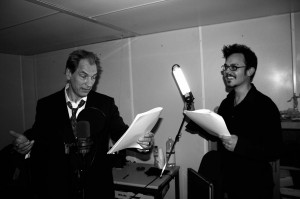 , well… 'vanished' and Channel 4 decided that although they would still be happy to be part of the production they wanted to come in at post-production stage. Which is great of course, but, we've got to make the bloody thing first, ha ha. So 'Borley Rectory' is now going to be a crowd funded project. The fundraiser itself will be not just a breakdown of the production but something of a study of British ghosts with contributions from a variety of authorities on the subject. And what's more we've been approached by someone very special to work on the soundtrack. Very exciting. So, look forward to announcements of the kickstarter scheme early in the new year, it's going to be something really special!'
2012 also looked to be the launchpad for Carrion Films most ambitious project – the animated feature 'Spring Heel Jack'. 'It should have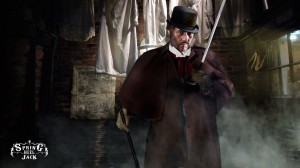 been a big announcement when our project received the attention of  Creative England but from the outset it was clear that there were problems. It would be easy to say it was 'creative differences' but I don't actually think that was the root of the problem at all. They were very keen on the material. The first revision of the script – delivered at very short notice – was very dense, overly 'Dickensian' actually, but as the scheme was first and foremost to develop the script I wasn't overly concerned in fact I looked forward to working with a script editor to fully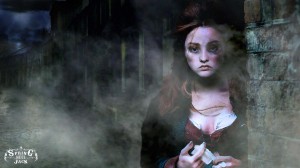 maximise the potential of the material. The general consensus initially was good, but we never really saw eye to eye after that initial meeting. I was only concerned about developing the script, whilst they seemed strangely preoccupied with the technical aspects of the animation itself which I found bizarre. A lot of of time passed, messages going back and forth, nothing really being resolved. We read the small print and finally backed out. I think it was early days for the scheme and they didn't really have the infastructure in place, but for all the dissent it caused it hasn't been a complete waste of time. I'm at work revising the script again into something far more bold, far more expressionist and gothic, and we've already had some interest from a couple of good solid names in the industry. So expect lots of new conceptual art and perhaps some very exciting news by the autumn.'
2012 also looked to be the year when a horror film festival would finally come to the South West. "It was to
be called 'Devon after Dark' or 'DeAD', ha ha. It always baffled me that a region like the South West that boasts so many tales of the supernatural didn't have a festival to celebrate it. Dartmoor alone is at least worthy of a festival. I talked to various curators of different festivals and saw that this was a very real possibilty. So, perhaps naively, I submitted a proposal to Creative England / the Arts Council again…I know, you'd think I would have learned my lesson by now…and at first it was all wow, praise and enthusiasm. I managed to get a huge list of supporters who pledged support and even hoped to attend or be involved; People from Fangoria, Rue Morgue, Tim Lucas, Alan Lee, Stephen Volk, Peter Atkins, Julian Sands, Steven Severin…I even had support from Sir Christopher Frayling who was very keen on doing a lecture of how 'The Hound of the Baskervilles' had been depicted on film. Creative England passed us over. Even though it had huge industry support and was an obvious blend of  culture and commerce the powers that be were not interested. What can I say? If you want something done in the UK these days there's really not much point in going through official channels."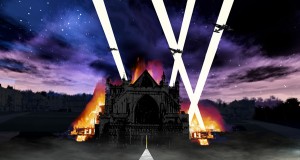 2012 also saw Carrion Films develop its close ties with local young filmmaking initiatives, Film/Video production company Cineon Productions aswell as the renowned animation festival 'Animated Exeter' and this looks set to continue into 2013. Apart from the 'Young and Animated'  workshops run throughout the year, Carrion Film also worked with the 'Freefall Youth Group' creating the horror short 'Nightwatch' and has signed up to be part of the National Heritage project 'Our Neighbourhood' which will run throughout the early part of the year. Ashley Thorpe will also be providing the animations for Animated Exeter 2013's 'Time Winders' interactive experience that will run throughout the festival based upon a short story by acclaimed children's author Philip Reeve.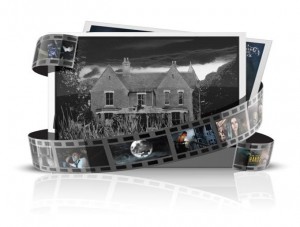 Director Ashley Thorpe – 'Carrion Films is ostensibly a very small unit and our output is determined by the same ebbs and flows of any industry. Through all the setbacks we've managed to maintain a nice presence in the industry this year; appearing at Frightfest with Glass Eye Pix' Glenn McQuaid, the new radio play 'Dead Man's Shoes' (due to be released on CD 2013) set visits for Fangoria magazine, work with a number of British horror festivals aswell as the increase in local filmmaking initiatives. It has been a tough old year in terms of getting projects up and running but I still look back at what we've achieved and think – not bad for a production unit jump-started by a few animations made on a laptop! 2013 will be the year we focus on the 'homegrown' projects. Our terrors have been gestating nicely in the dark…now it's time to let them out to play.'
All at Carrion Film would like to thank you for your continued support and interest and wish you all a prosperous and peaceful new year.