Happy Halloween…It's time to raise a few more ghosts! Yes, deep into production, we are once again calling upon the kindness of strangers to secure the remaining budget to finish the shooting of Borley Rectory.
A great deal has happened since the previous crowdfunder in 2013. The films cast is now all but complete and what a cast it is with new members  Steve Furst, Sally Mortemore, Richard Strange and Sabrina Dickens joining Reece Shearsmith, Jonathan Rigby, Nicholas Vince and Julian Sands.
"Looks wonderful – Neil Gaiman"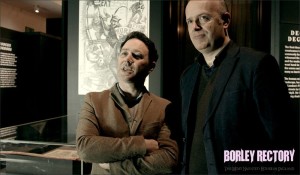 We've had huge support for the film from a variety of sources none perhaps more prestigious than the recent affiliation with the curators of the British Library and the 'Terror and Wonder' Gothic exhibition no less (look out for a number of fantastic and exclusive videos from the exhibition to be released throughout the campaign!). If you've ever wondered how serial killer aficionado Reece Shearsmith would react to being face to face with an original Ripper letter…stay tuned!
"Absolutely beautiful … mesmerising" Reece Shearsmith
Exclusive clips from the completed scenes have been leaked (well…mailed out like Ripper kidney parcels)  to a number of major Horror Festivals (so keep your peepers peeled folks as they won't be announced…) and a lengthy section will be hosted online by Fangoria. International festivals are already begging for the film (or sections of it) to screen and an upcoming indie studio has been in contact with us to seriously discuss the possibility of turning Borley Rectory into a feature…
"Absolutely STUNNING!" Axelle Carolyn
But first we need to get these shoots financed and to do that we need you! Have a look at the campaign page, watch the video, drool over the phenomenal perks (be warned devoted supporters we will be rolling out a wealth of special feature rewards throughout the campaign) and have your heart melted by Carrion Film's newest member – little Lily Wednesday.
Borley Rectory is rising…Campaign runs from Oct 31st until December 14th. Help us raise a few more ghosts! SUPPORT NOW!

Great British Horror are also printing 2 exclusive t-shirts to support the campaign. The 2 designs (both original artwork by Fangoria cover artist Ashley Thorpe) are in full colour and feature a back print!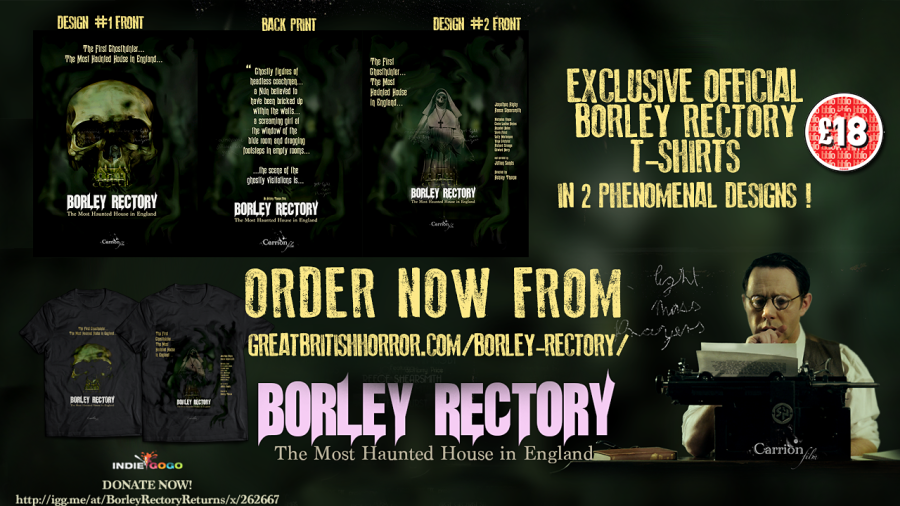 Profits from the sale of the T-shirts will go towards the Borley Rectory Indiegogo campaign.
.