Carrion Films – History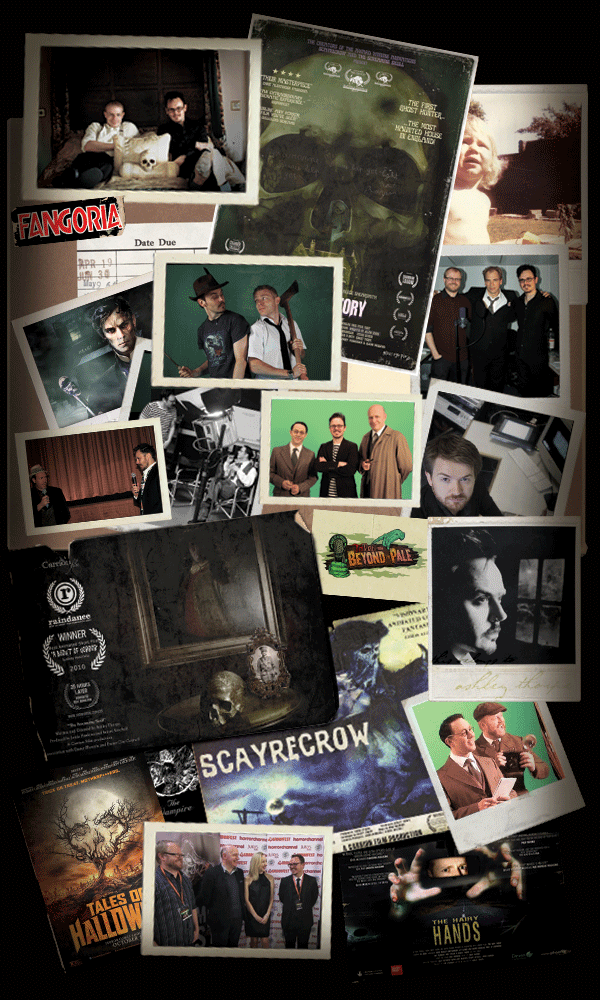 Carrion Films is a group of filmmakers dedicated to celebrating the neglected aspects of British folklore and British gothic. Spearheaded by Devon based writer / animator / illustrator Ashley Thorpe, Carrion Films was born during the production of the award winning animation 'Scayrecrow' (2008) – his love letter to Hammer horror and the tales of the English Highwaymen.
Produced with long time collaborator Mick Grierson the popularity of the modestly made short led to 'The Screaming Skull' which commenced production mere weeks later (a film subsequently nominated Best British Short film at Raindance that year) and 'The Hairy Hands' in 2009 wherein the core team was joined by producer Tom Atkinson (he of the pre-kickstarter '10 pound horror' initiative).
In 2013 Carrion films embarked upon the production of the ambitious animated documentary 'Borley Rectory' starring Reece Shearsmith,  Jonathan Rigby and Julian Sands. After years of endeavour the film was finally released late 2017 to huge acclaim and has already clocked up an impressive 7 award nominations and a ' Best animated feature' win at Buffalo Dreams New York.
Carrion Films has always maintained close ties to the local community, running workshops and getting involved with school projects resulting in a small business award recognising their work in 2009.
Carrion Films is also a keen and prolific provider of bespoke titles and animated sequences for such varied projects as the 'Fantastiq' fantasy and horror film festival, Austin Vince's travel feature 'Mondo Sahara', Animated Exeter's 'Time Winders', Paignton Zoo / Exeter Chiefs 'Unleash your wild side' promotional short and in 2015 provided the animated titles for Axelle Carolyn and Neil Marshall's horror anthology feature 'Tales of Halloween'.
Neglected folklore and the Penny Dreadful Tradition

The Penny Dreadfuls or the Penny bloods were sensational stories published in weekly parts. Usually with an emphasis on the terrible and the fantastic and often inspired by gothic melodramas of the time, the bloods were an important feature of Victorian sub culture.
Though once prolific, these items and the stories within are now scarce. The subjects once familiar, are now (bar Sweeney Todd and Dick Turpin perhaps) all but forgotten. Characters like 'Spring heel Jack', once a household name, are now esoteric.
Cultures may change in time and place, but the roots of culture remain the same. Like any story they exist through their telling and the bloods are not the only legacy that has passed with a generation. Many folk stories and communal legends once integral to the fabric of a regional, and perhaps national, identity are being lost because they are simply not being passed from one generation to the next.
Carrion film seeks to redress that.
Each film will draw from neglected local legends and aspects of the early Penny Dreadful's. Some, like the phantom coach of Okehampton castle, have been drawn from folk songs.  Some were once part of a shared English mythology, such as 'the Lambton worm', but have since slipped into obscurity outside the region that spawned them.
The diversity of these tales lies testament to the richness of our folklore's heritage.
These then are simply new ways to tell old tales… but they are tales worth telling.
"No disrespect to you Sir, but the dangers of the moor are plentiful. We may have civilised the outskirts of the moor, but for all our wants, for all our faith, it's still a wilderness out there Sir….if all the unclaimed bodies, scattered in their shallow graves rose from the moor, the dead would outnumber the living. The earth out there is alive with their stories." – The Demon Huntsman (for Glass Eye Pix)
Carrion Films – Never short of a lure to draw you upon the moor…