The narration for  'Borley Rectory' has concluded at the world famous Trident Studios in London, home to recordings by David Bowie, Queen, Frank Zappa and The Beatles.
The recording session featured VO work for key sections of the narrative by Julian Sands, Reece Shearsmith, Jonathan Rigby and Steve Furst and featured dialogue culled from genuine newspaper articles and accounts contemporary of the haunting's investigation. The recordings also mark the end of the cast audio recordings leaving essentially only the final animation, sound mix (by Ben Wheatley's regular sound artist Martin Pavey) and score (composed by Seven Severin) remaining before the long delayed production will finally see the light of day.
Production update
Originally 'Borley Rectory' was destined for completion around February 2016. Reasons for the ongoing delays this past 12 months have been numerous (including Steven Severin's serious illness during the first half of the year) but are explained here by Director Ashley Thorpe as posted recently via social media:
"I've had a number of messages from various interested parties (well wishers and not so well wishers) as to the progress of Borley Rectory and the situation is essentially this:
I was initially hoping for the animation to be finished early 2016 but redundancy at the beginning of the year followed by serious family illnesses (in both my 2 year old daughter and then my Father) and subsequently a huge downturn in my income over the following months has put great pressure on me to turn my focus towards paid work of any kind just to financially survive. The project has been scuttled by circumstance and austerity. But not sunk. Life gave our family a good fucking kick in this year but we're not beaten yet.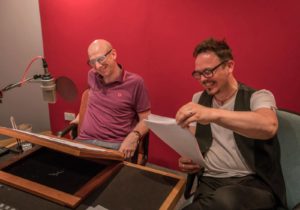 I'm still working on Borley each night (once my young daughter is asleep) but progress has sadly slowed the past few months. The situation hasn't gotten any better so for the time being – though animation continues (in fact seeing it crawling to completion is one of the few things that maintains any semblance of morale) – I still can't give a definite date as to when Borley will be complete. I can only apologise for the ongoing delay and hope you can sympathise with the reasons behind it. I will get there.
As Julian Sands once said to my Dad "If it was easy, everyone would be doing it." – Ashley Thorpe

So for the foreseeable future the animation continues (albeit at a slightly compromised rate) so to be ready for the sound mix and scoring later in the year or early next year. All available perks have been despatched with only the production reliant perks remaining (ie the vinyl scores and links / DVD's of finished film) remaining. All updates can be found via the Carrion Film Facebook page.
Thank you for your patience and support!