It's been a long time coming but thanks to everyone that supported the 2013 Indiegogo campaign cameras finally started rolling today on Carrion Films latest venture – BORLEY RECTORY!
Budget shortfalls necessitated revisions of the production plan and calls for further funding / sponsorship but shooting commenced May 23rd 2014 at the VFX Co London with  primary cast members Jonathan Rigby (who will be portraying Harry Price), Reece Shearsmith (portraying journalist Vernon Wall) and Claire Louise Amias (portraying the wife of the Reverend Smith) capturing such iconic scenes as the discovery of the skull in the library, the first ghostly stakeout and the writing of the first newspaper report that led to the Rectory's notoriety.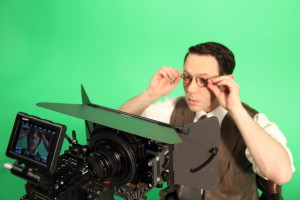 The day was a fantastic success finishing on budget and on time and – as the on set pix are testament to – the day was a lot of fun aswell. Now the long process of animation begins!