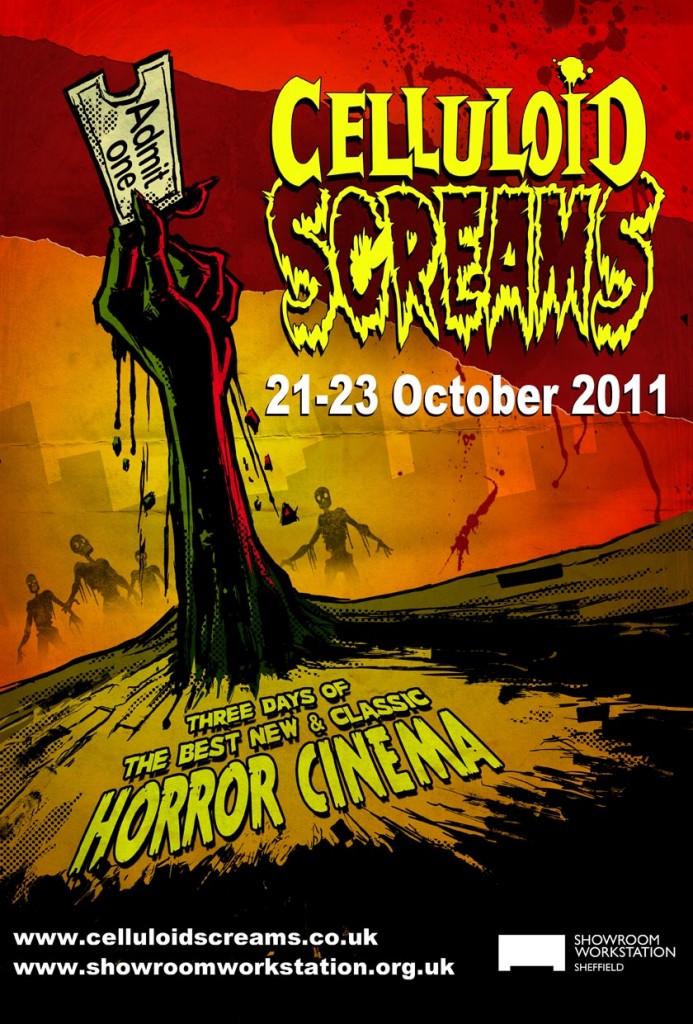 Carrion Film animation 'The Hairy Hands' is one of the short films playing at this years 'Celluloid Screams', Sheffield's horror spectacular. The festival runs from the 21st – 23rd October and promises another weekend of the very best in new and classic horror cinema.
"We're delighted to be screening THE HAIRY HANDS at Celluloid Screams 2011. Director Ashley Thorpe clearly has a deep passion for both the horror genre and the subject matter contained within his unique body of work, and the style and execution of his films make him a talent to watch" Robert Nevitt, Festival Director.
Sheffield based horror festival 'Celluloid Screams' is the brainchild of Filmmaker Rob Nevitt. Starting in 2009, the festival – showcasing the very best in both new and classic horror cinema – grew rapidly and essentially from the rabid enthusiasm of the fans.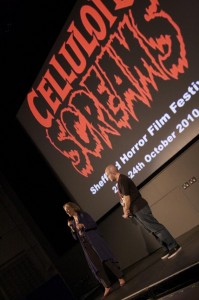 ROB NEVITT: "Celluloid Screams began initially as a short series of horror screenings at the Showroom Cinema, most of which sold out, which confirmed for me that there's a rabid audience for horror in the North of England. Shortly after that we began preparing for our first edition… We were extremely fortunate to have presented the UK Premiere of 'Paranormal Activity' in our festival in 2009, which was a definite coup for our first year, but for me the main highlights have been our guests such as Fulci legends Ian McCulloch and the incomparable Catriona MacColl who was our guest of honour last year."
The festival opens with a gala screening of Alex Chandon's demented gorefest INBRED, which gives a new meaning to the phrase "Northern rural hospitality",  UK Premieres of German giallo MASKS, Noboru Iguchi's  J-Horror TOMIE: UNLIMITED and Adrian Garcia Bogliano's COLD SWEAT. The festival will also feature  revival screenings of classics such as HALLOWEEN, VAMPYRES and RE-ANIMATOR.
Carrion Film Director Ashley Thorpe: "I think the thing that I find most interesting about Rob's festival is its approach to screening short films. There's still a tendency to treat the medium like a curiosity, an anomaly in filmmaking… Short films have a tendency to be 'ghettoed' into their own slot and as such often become marginalised in the festival schedule. What Rob is doing, and I hope that more festivals take note, is for the films to be screened before a feature, like a thematically linked support or 'B-Movie'. I'm amazed that more people don't do it."
Closing the festival this year is the Celluloid Screams Secret Film, the now-annual tradition that will be revealed on the night. In addition to the films, the festival includes merchandise stalls, giveaways, a specially-commissioned art exhibition and even a special  5.9% Festival Ale, so there's plenty to occupy every horror fan!"