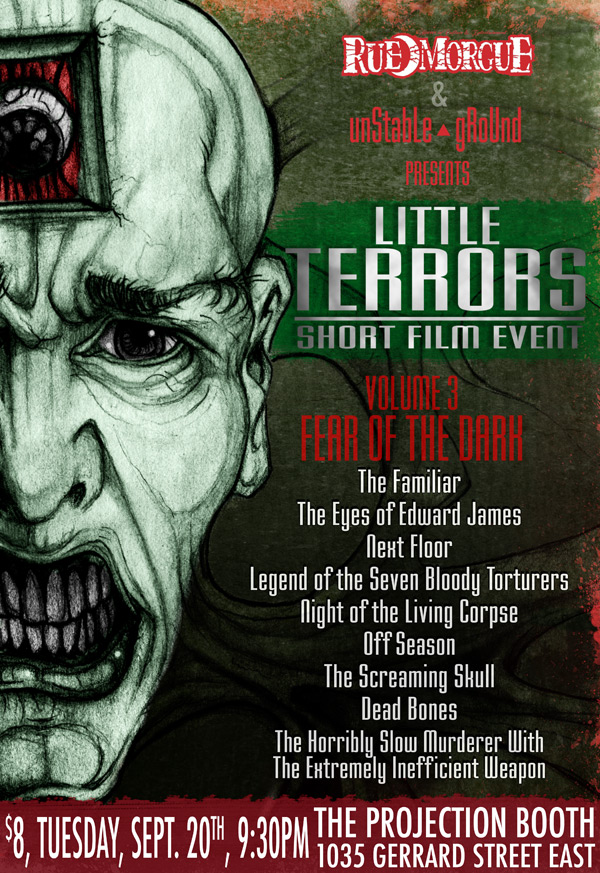 The award winning carrion Film animation 'The Screaming Skull' has been chosen to join a select group of award winning shorts as part of the monthly series 'Little Terrors', co-presented by Rue Morgue and production company Unstable Ground.
"You'll be treated to two hours of the craziest, goriest, most disturbing and off-the-wall short films the genre has to offer, followed by an in-depth Q&A/meet & greet with some of the filmmakers." Rue Morgue.
The event will take place Tuesday, Sept. 20 at Toronto's newest rep cinema, The Projection Booth (1035 Gerrard St. East). This month's theme is 'Fear of the Dark' with 'The Screaming Skull' rounding off the evening's entertainment. Sadly Director Ashley Thorpe will be unable to attend the screening due to previous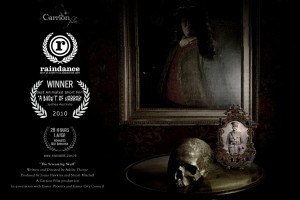 commitments.
"I love the fact that the Skull still has legs," jokes the Director. "In the light of all the – wonderful – exposure  'The Hairy Hands' has received recently, its eerie cousin has been somewhat relegated to the shadows a little. But then, it's a very different animal: its purposely slower paced,  funereal almost  – certainly compared to something like 'Scayrecrow' – and has that long POV sequence that borders on abstraction. But I have to say that I'm very fond of it. It  has a textural quality, a tone to it that I like, it doesn't compromise… and I think also that in terms of sound design Mick absolutely excelled himself. It's his best work for me certainly.  So I'm personally thrilled that 'Screaming Skull' is still of interest and finding its audience…and to be finally screened in Toronto is fantastic. I am absolutely thrilled. Wish I could be there."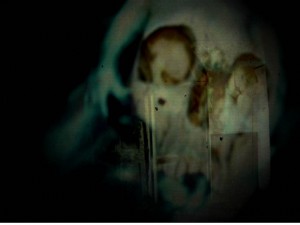 'The Screaming Skull' was completed in November 2008, hot on the heels of sophomore effort 'Scayrecrow' and though initial responses were mixed the film has since gone on to receive a number of accolades including a 'Best UK Short Film' nomination at the 17th Raindance Film Festival, a Judges award at Horror UK and 'Best Animated Short Film' at last year's 'Night of Horror Film Festival' in Sydney Australia.
The screening is also continued proof of 'Rue Morgue magazines' support for the Carrion Film animations, which has so far included an 'Abbreviated Terrors' feature, favourable reviews and an interview with Ashley conducted by Stuart 'Feedback' Andrews on Rue Morgue Radio (May 2010).
A full trailer playlist of the evenings selected films can be found on YouTube.
SCAYRECROW to join 'Little Terrors' October !
It has just been announced that following an enthusiastic response to 'The Screaming Skull' aswell as  a personal plea from Rue Morgue Radio's Caustic Critic Stuart 'Feedback' Andrews that the film play a big screen in Toronto, Carrion Film favourite 'Scayrecrow' has been rushed to the October line up for Toronto's 'Little Terrors' short film event.
'(Scayrecrow) A gorgeously animated hypnotic love letter to both Hammer horror and the folklore of the British highwayman" – Stuart Feedback Andrews Rue Morgue Magazine
'Scayrecrow' was made with funding from Exeter Phoenix's  'Project Greenlight' commission in 2008 and the Devon produced film has since gone on to win numerous accolades including 2009's Media Innovation Award.
Carrion Film can also reveal that there is also the possibility that 'The Hairy Hands' may also be selected  for November's event.