The 'Borley Rectory' Indiegogo fundraiser is over…the project is just beginning.
It's been an amazing journey aboard the ghost train the past few weeks hasn't it? Although we may not have reached the target goal, for a Devon based tiny production unit we've had phenomenal support across the horror and film community, all keen to see the story of the most haunted house in England finally told on film.
"The project oozes as much quality as it does evil. Borley Rectory is one of the great ghost stories. I needed to be part of it." – REECE SHEARSMITH
We've talked the 'Business of Ghosts' with multi-award winning writer Stephen Volk. We've talked ghost tours with Best British Horror editor and Pan Horror historian Johnny Mains. We've been the talk of both Fangoria and Rue Morgue radio and had donations and sincere support from luminaries such as Neil Gaiman, Derren Brown, Neil Marshall, Axelle Carolyn, Richard Stanley and Britian's greatest living poster artist Graham Humphreys. But among the leaps of faith to come out of the campaign there were a number of astonishing yet rather natural bits of casting. Fistly  actor / writer Reece Shearsmith (League of Gentlemen, Psychoville, next years Inside No.9 and most recently Ben Wheatley's A Field in England) has joined the cast of BORLEY RECTORY.
Reece Shearsmith will b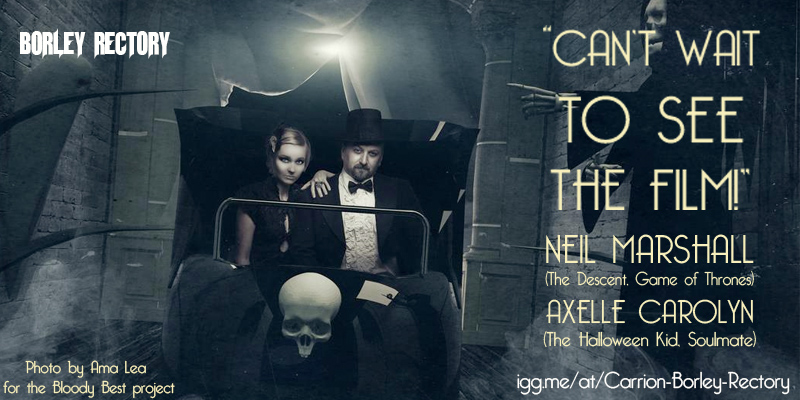 e portraying V.C Wall, the Daily Mirror journalist that broke the story of the haunting to the world. Director Ashley Thorpe –  "I'd been in correspondence with Reece (third party) for a Fangoria article to support Paul Davis' 'Him Indoors' (featured at Frightfest 2012). He's someone that I've always had enormous admiration for. He's a damn good actor. Although he's mainly known for his comedy grotesques with LOG he's a natural performer. Just look at his performance in 'Eric and Ernie' as the father. Great subtlety and emotional resonance. When I launched the campaign I saw that Reece had been retweeting messages and so I thanked him, then knowing that he was a huge fan of the subject plucked up the courage to ask him if he'd like to actually be in it. Reece to my astonishment said that he'd be honoured. "
"Haunted houses are always worth supporting, especially the big one!" – Jonathan Rigby
Any film about Borley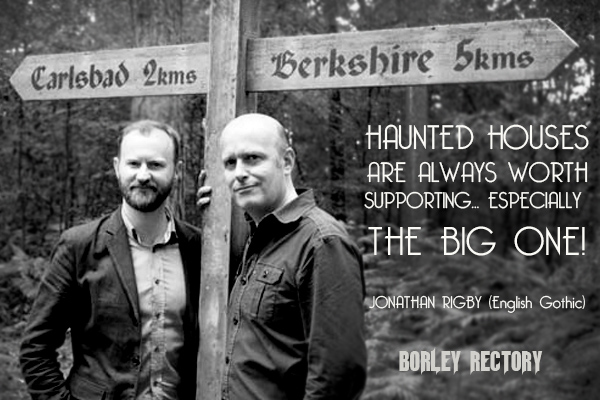 Rectory wouldn't be complete without Harry Price , the casting of whom could have been something of a nightmare and yet Ashley explains the solution came easily. "I was watching 'Tales from behind the crypt' a documentary on the League of Gentlemen and how their Christmas specials were heavily indebted to the Amicus portmanteau and Jonathan Rigby was just there and was just perfect," explains the director, "I suddenly thought, that's it! Jonathan would be an amazing Price. Once again I just asked him and miraculously he said yes! It's incredible really. It's been a huge amount of effort and mucking around to try and raise a bloody production budget and yet an A-list cast are coming together effortlessly!"
Hammer horror / Amicus historian / enthusiast and author of the seminal study of English horror 'English Gothic' Jonathan was also a consultant on the Mark Gatiss BBC productions 'A History of Horror' and 'Horror Europa' and is a regular presence on Hammer releases. "I know that Jonathan will be amazing as Price, in fact when I told Reece Shearsmith that I'd approached him Reece simply said 'Perfect.'"
Although the Indiegogo didn't reach its ideal target the production will be going ahead and all perks most assuredly honoured. "When I initially searched for funding I created three budgets; an ideal, a midway and a sticky tape and brown paper – no frills 'Screaming Skull' kind of budget. We're already looking at a budget greater than both 'Skull' and 'Scayrecrow' so I know through experience that we can make something, although as a far more ambitious project production – not quality – will be compromised to a certain extent. Ideally we could do with more, so I will be looking to source extra 'top-up' funds privately. The Indiegogo campaign may be over but we're certainly still open to contributions and investment. I'm keen to get started!"
So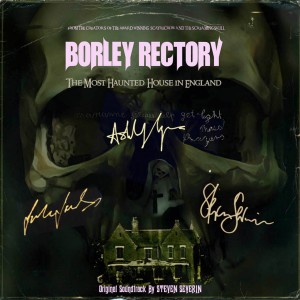 from everyone at Carrion Film HUGE thanks to all the backers, thank you for every tweet / shared FB update, to everyone who sent messages of support or covered the campaign via interviews etc. You've all been 'PHENOMENAL'!
If you have any questions regarding subsequent donations towards the film or investment options please contact the production team via info at carrionfilms dot co dot uk.