After 6 years of development and 3 solid years of animation our first feature length film 'Borley Rectory' – featuring the talents of Jonathan Rigby, Reece Shearsmith, Claire Louise Amias, Annabel Bates, Nicholas Vince and Julian Sands to name a few –  has been finally released and out upon the world stage to – thus far – rave reviews.
The first screening – albeit not strictly a public event – was held at Simon Drake's 'House of Magic' in London on September 23rd and was attended by the cast, crew, backers aswell as a wealth of genre scholars and enthusiasts including Paul Adams, Eddie Brazil, Stewart Evans, Peter Laws, Neil Spring, Stephen Volk and Empire magazine's Kim Newman. The event was kindly sponsored by 'Haunted Magazine' and was a huge success with the film receiving a overwhelmingly positive response. The screening was followed by a lively Q & A chaired by Simon Drake.
"This film really is all down to Ashley's perseverence and brilliant skill at creating images that you feel as if you've never really seen before. There's something really ethereal about the film and it's an immersive experience, it's part documentary, part almost installation in a weird way, it feels very 'ghost-like' and by the end you do feel quite literally haunted. " – Reece Shearsmith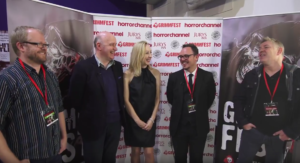 The first public screening followed with a fantastic screening at GRIMMFEST, held at the Vue Printworks Manchester and sponsored by Horror Channel, wherein the full obsessive detail of the animation and incredible 5.1 surround design by Martin Pavey could truly be appreciated. Festival director Simeon Halligan: "We were proud to present the world premiere of this remarkable and utterly unique film. Over six years in the making, it's a real labour of love for its creator, Ashley Thorpe; combining traditional filmmaking technique with an elaborate mix of rotoscoping, digital animation and compositing, using a mixture of live action, stills, paintings, and model work, to offer an immersive, atmospheric, and elegantly retro-styled exploration of the Most Haunted House in Britain. Featuring a cast including the League of Gentlemen's Reece Shearsmith, Julian Sands and Nicolas Vince, it's an extraordinary cinematic experience. We've never seen anything quite like it."
"Thorpe's vision of the legend is elegant, meticulously cinematic, beautifully spooky, atmospherically enveloping. The detailed and seamlessly inter-woven animation and rotoscope by multi-talented Thorpe is hypnotic, shocking, visually stunning–each shot an artwork. This is a film for film noir lovers as well as haunted house and psycho-horror fans, conjuring up echoes of classic early British horror films like The Innocents, Haunting of Hill House, Psycho. Asks important and unusual questions about what we need from ghosts as well as what they need from us. This film is very, very different. Ken Russell seal of approval." – Lisi Russell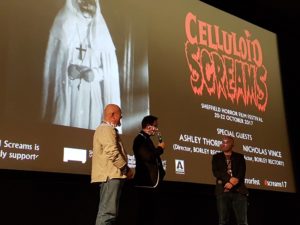 'Borley Rectory' has subsequently had successful screenings at Cinemagic Belfast, Dead of Night Festival Southport (wherein the film has received nominations for 'Best Feature', 'Best Director' and 'Best Score'), Folk Horror Revival Edinburgh, the Telluride Horror Show in Colorado (to a packed house) and Brit genre fave Celluloid Screams in Sheffield (with Nicholas Vince also in attendance) with many more screenings to follow before the end of Nov 17 including Buffalo Dreams in New York, Night Of Horror in Sydney and HorrorRama in Toronto. Festival booking are already coming in for 2018. Celluloid Screams director Rob Nevitt: "Ashley Thorpe's extraordinary film, which is pitched as "an ultrasound of a haunting": a beautifully realised artifact documenting the house's various occupants throughout its history, both living and dead. Over six years in the making, Ashley Thorpe's visually stunning tale of "the most haunted house in England" is unlike any horror film you've seen in recent memory. Combining live action, rotoscoping and digital animation techniques, Borley Rectory is a fascinating and enthralling experience that is as haunting as the events it depicts."
"Those tired of the same old same old from the lower-budgeted end of British horror will find much here to restore the faith. Richly textured, with an extraordinary attention to detail, it's the kind of film that haunts the memory long after the end credits have rolled in much the same way as the ghosts stalked the real life Rectory." – Kevin Lyons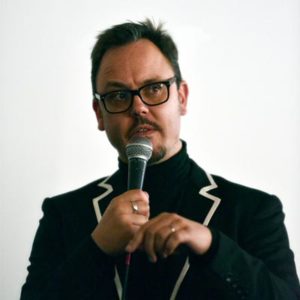 "Borley Rectory is not exactly an easy sell – a purposely slow, ponderous unconventionally animated film about a dense narratively convoluted haunting spanning 60 years – so I'm thrilled not only to have got to the end over great adversity, but to be receiving such overwhelmingly positive reaction is a great relief," says Ashley. " I'm sure that there will be many that won't like it or respond to it but the response we've received so far is incredible. Due to various issues – including Steven's health – we only finished the film a few days before that first VIP party so we've barely had time to catch our breath before the thing went out into the world, so for it to be so in demand and antiscipated is incredible. We've barely started to even push it to a wider audience but it's already had a dozen screenings lined up. This is just the beginning and I'm excited for the projects future. A victory for everyone involved and all that had the faith to suport it from the start."
On November 6th 2017 Ashley Thorpe was interviewed for BBC Spotlight and the subsequent primetime feature broadcast both insights into the projects creation and its hardships, projected festival appearances aswell as a selection of clips from the film bringing further exposure to the much antiscipated feature.
With the film now touring the festivals Carrion Film will now also be looking into sales and ditribution, and with a number of offers already received, we are quietly confident that Borley Rectory will available for wide release / retail sale in 2018.